SuperKlean's Wall Sign Program Allows Distributors to Conveniently Display Top-Selling SuperKlean Washdown Products
Burlingame California – April 9, 2021
SuperKlean's 2021 Wall Sign Program makes your nozzle sales sizzle and provides great logo-based branding to brighten up your selling area. Customers just love that you can hand them the nozzle, then either replace it or sell it to them! SuperKlean's wall sign allows you to conveniently display SuperKlean products directly in front of the customer above the counter sales area. Your company name will be printed on the wall sign for free! You will also receive the sign, printing of your logo, and shipping for free with purchase of products.
We are excited to extend SuperKlean's Wall Sign Program through our 30th anniversary. Authorized SuperKlean Distributors can hang this colorful 24×30 SuperKlean Wall Sign in your business to display and demonstrate products. Distributors who have purchased SuperKlean's Wall Sign experienced increased sales revenue. Plus, it is a great sign to take to shows.
SuperKlean Distributors Receive:
SuperKlean's 5 best-selling nozzles, plus our incredibly popular ball hose swivel adapter.
A free 24×30 sign with beautiful hanging hardware + free shipping to your location.
Your company name and your color logo printed right on the sign for free.
Each nozzle can be easily removed from the sign to demonstrate to customers.
Your team can sell right off the sign! (Replacement part number right behind each nozzle.)
Each Wall Sign has a clear acrylic holding up to 50 SuperKlean brochures to hand to customers!
You receive a one-time 60% discount off list for 5 nozzles & swivel adapter!
Program Cost:
(1) DURAFLOW Nozzle – DH150S-DB (Dark Blue) $67.35
(1) STANDARD Nozzle – 150B-DB (Dark Blue) $43.68
(1) DURAFLOW MINI Nozzle – DM150S-R (Red) $37.96
(1) DURASPRAY Nozzle – DS150S-W (White) $52.91
(1) STANDARD "LITE" Nozzle – 150LTB-W (White) $42.68
(1) BALL SWIVEL Adapter – 8-B3/4-B (Stainless) $31.20
 Total Program Cost:   $275.78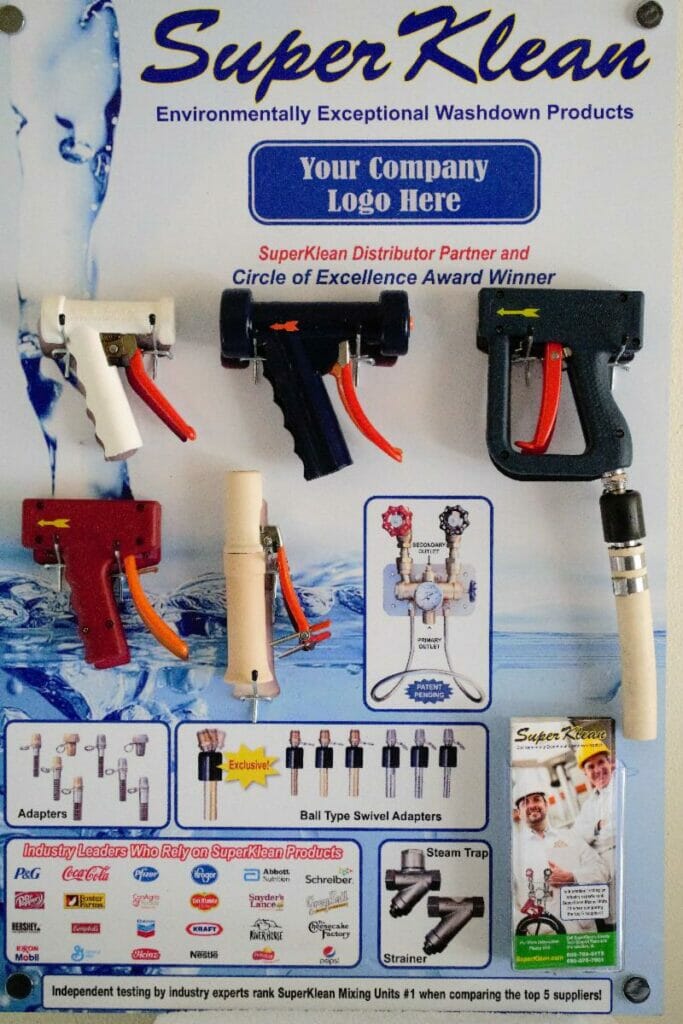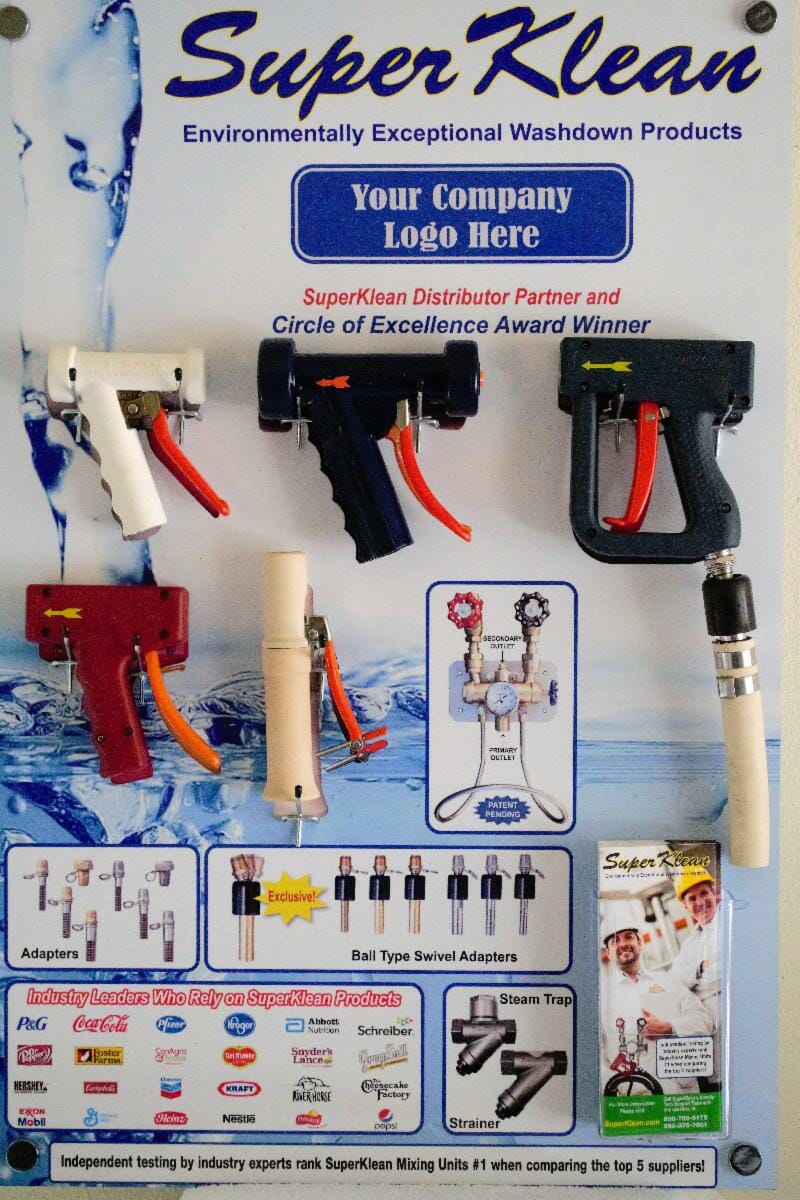 SuperKlean offers a diverse range of industrial spray nozzles to suit any washdown application. Our heavy duty hose nozzles, hose swivel fittings, and washdown hoses are designed to be comfortable to handle while withstanding strenuous use and high temperatures. SuperKlean has been renowned for providing the safest washdown products on the market for over 30 years. Our safety-first approach in designing our equipment has been proven to provide the most effective and safest washdown process. With SuperKlean products, you never have to worry about potential harmful steam burns or puddles of standing water on factory floors, ensuring the safety of your employees and operation.
Get your SuperKlean Wall Sign Program today for 60% off! Call (650) 375-7001 or (800) 769-9173 to place your order or for more information.