As commercial businesses begin to reopen, the health and reputation of many businesses rests on the sanitation standards implemented behind the scenes. Food safety refers to the proper practice of preparing and storing food to avoid contamination or foodborne illnesses. Safety not only pertains to food and ingredients, but the workspace, equipment, surfaces, floors, and employees as well. As you prepare your business for customers, consider the following best practices for commercial workplace sanitation.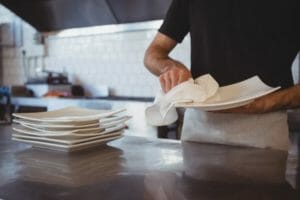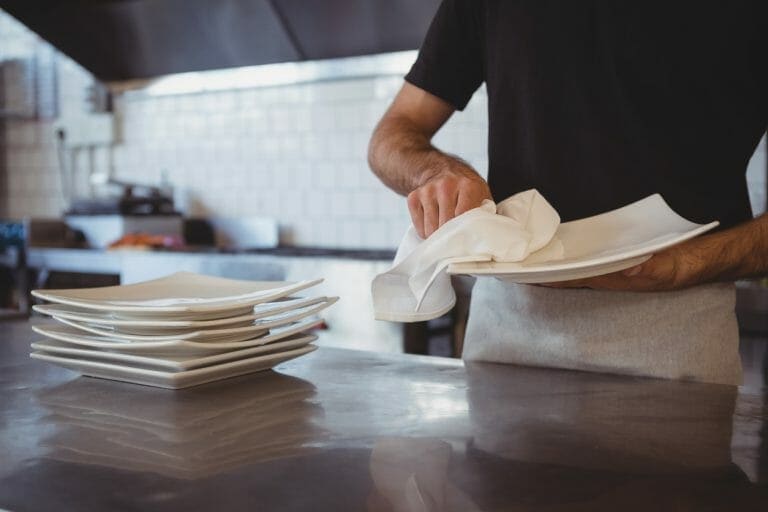 Have Visible Cleanliness
Restaurants, bakeries, and food retailers must maintain visible cleanliness in both the front and back of the business. Personal hygiene requirements, increased distancing measures, and frequent cleaning periods will protect customers and employees, ensuring your business produces consistent products. Well-kept food service establishments are driven by enforced sanitation practices that keep the workplace orderly and clean. Customers and employees alike will have more peace of mind in a visibly sanitized space. 
Wash Down Absolutely Everything
The kitchen and food prep stations can be highly contaminable areas if not routinely cleaned. The risk of cross contamination is increased commercial businesses with many ingredients or products and careless equipment sanitation. Dirty utensils, equipment, and surfaces should be hosed down with water of at least 180°F to be fully sanitized. Different cutting boards and utensils should be used for separate products to avoid cross contamination or allergic reactions. Walls and floors must also be cleaned of fallen food particles or puddles where bacteria can grow. Employees in the kitchen must also uphold personal sanitation practices by washing their hands, aprons, and towels regularly.
Bacterial Growth in Storage and Equipment
Food storage containers and other machines often have many parts or are difficult and time consuming to clean. However, it is vital that these instruments stay clean so that no leftover food or growing bacteria threatens the next batch. Warm environments, such as proofing cabinets, are ideal environments for bacteria to live and should be hosed down and sanitized on a daily basis. Cold storage should also be cleaned on a daily basis to not only avoid bacteria, but to also ensure temperatures and labels are accurate. For large equipment, storage spaces, and the kitchen in general, including walls and floors, a commercial hose down of the entire area with very hot water and sanitizer is sufficient.
Employee Safety
Personal hygiene is crucial for the sake of yourself and those around you. Careful attention to employee health and safety measures makes all the difference in ensuring human interaction does not cause cross contamination. Businesses should have strict protocols for food handlers to avoid transmission of pathogens and other microorganisms to the food, each other, or the environment. Hand washing, clean clothes, tied or covered hair, and PPE such as gloves, masks, and face shields should be a priority for all employees. Hand washing should occur frequently and regularly throughout the day. SuperKlean's mixing stations, hot water hoses, and insulated nozzles are perfectly designed to reach every nook and cranny of your business during the commercial hose down process. Our regulated temperature steam & cold water or hot & cold water mixing stations provide an easy, yet thorough cleaning process with long hoses and comfortable handheld water guns. Commercial industries across the world trust SuperKlean to keep their kitchens and business clean, safe, and consistent.