SuperKlean washdown products helps dairy product manufacturers meet the quick, temperature regulated, and highly sanitized equipment and facility requirements involved in working with easily spoiled ingredients. From milk to cheese to chocolate, SuperKlean sanitation equipment is trusted by dairy processors across the country to destroy harmful bacteria and unwanted pathogens that linger and grow in the facility and equipment, ensuring your dairy products are always safe and shelf stable. Top SuperKlean products for Dairy Processing:
DuraMix 8000 Steam & Cold-Water Mixing Stations for ultimate safety and sanitation
DuraFlow Industrial Spray Nozzles are insulated to effectively handle high temperatures and hold up to the continuous factory cleaning requirements
SuperKlean hose swivel adapters feature long-lasting O-ring construction that never leaks or drips excess standing water
SuperKlean's exclusive LifeSpan internal hose guards make hot water hoses last longer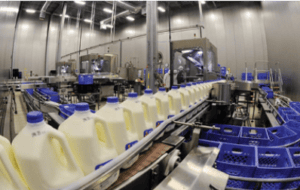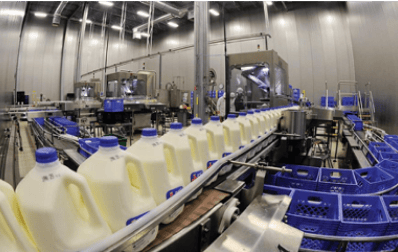 Dairy processing presents unique challenges in a difficult working environment due to the processing of highly perishable items. Dairy products in the form of milk, cheese, ice cream, and chocolate must have a rapid and controlled system for production, processing, and packaging to ensure the integrity and hygiene of the product is not compromised. Since dairy products risk spoilage in an open environment, periodic washdown and cleaning of the equipment and packaging area is required to avoid contamination of microorganisms, dirt, and pathogens in the finished product. ​
The Food Safety Modernization Act requires that personnel hygiene, handling of ingredients, packaging material, finished products, processing and packaging equipment, fermentation and aging rooms, storage areas, and the whole factory environment maintain supreme sanitary conditions through industrial hose down. SuperKlean's washdown supply provides the best, most environmentally friendly washdown equipment for continuous daily plant sanitation in a highly perishable and easily spoiled environment. The fundamental ingredient of dairy processing, milk, runs a high risk of fouling. This occurs when undesirable protein and mineral milk deposits form an unhygienic film on heat transfer equipment surfaces and walls due to long production runs. Milk fouling can greatly threaten the safety and shelf stability of your product by transferring unwanted milk deposits. To combat this, industrial sanitation largely relies on thermal disinfection through the use of hot water or steam. Our DuraMix 8000 Steam & Cold Water Mixer commonly used in dairy plants combines steam and cold water to achieve the proper hot water temperature levels to penetrate and sanitize harmful pathogenic and spoilage microorganisms. If your factory is not equipped with a steam source, our DuraMix 3600 Hot & Cold Water Mixer also achieves the same level of equipment and facility sanitation by mixing hot and cold water to achieve the proper disinfecting temperature.
Plant sanitation equipment can get expensive, and that's why SuperKlean's washdown hoses, insulated water nozzles, and hot water hose fittings are designed endure the continuous and strenuous usage required in a dairy plant. Our industrial nozzles and hoses withstand high temperatures and can be equipped with our specially designed ball swivel adapters (nozzle to hose connector) and internal hose guards to handle even more extensive use. The O-ring design of our ball swivel fittings last considerably longer and allow for natural wrist movement, making them much less prone to becoming loose and leaking unwelcome water onto factory floors where harmful pathogens can grow and threaten the safety of your operation and dairy products. Dairy processors across the country maintain the highest level of facility sanitation by using SuperKlean Washdown Products – the best and most trusted factory sanitation equipment on the market!