Features:
Front trigger guard cover designed to prevent accidental spray.
Trigger lock mechanism built in.
Quick connect receptacle for accessories.
304 stainless steel construction with a total weight of 1.53 lbs.
Rating: 150 PSI / 200°F (93°C)
1/2" female NPT inlet.
DuraFlow industrial spray nozzles also are incredibly ergonomic, with a 4 position trigger-locking mechanism allowing for variable spray patterns, ranging from fan to solid streaming. Weighing only 1.53 lbs., and featuring heavy-duty stainless steel construction, these hot water nozzles will endure the rigors of any industrial use that you can throw at them. They are always available off-the-shelf, in white, red and dark blue colors. Hot water streaming ranges from a water-saving fan spray, to high performance targeted streaming of hot water up to 200 degrees.
SuperKlean's DuraFlow heavy duty water gun features a front-mounted, quick-connect, quarter-turn receptacle for accessories like SuperKlean's exclusive 1.5 or 3 foot long DuraWand extension product for getting closer to floors or hard to reach areas or equipment. Try the DuraFlow hot water gun for your steam applications! You will find this highly insulated water nozzle will become a favorite of your sanitation team!
Rating: 150 PSI / 200°F (93°C)
| | |
| --- | --- |
| STANDARD FLOW |   |
| Inlet Pressure | Flow Rate |
| *(PSIG) | *(GPM) |
| 25 | 2.93 |
| 50 | 3.86 |
| 75 | 4.91 |
| 100 | 5.78 |
| 125 | 6.71 |
| 150 | 7.19 |
| Note: Standard flow rates can be achieved with the purchase of flow restrictor adapter. |   |
| HIGH FLOW |   |
| Inlet Pressure | Flow Rate |
| *(PSIG) | *(GPM) |
| 25 | 4.39 |
| 50 | 6.54 |
| 75 | 8.18 |
| 100 | 9.56 |
| 125 | 10.83 |
| 150 | 11.89 |
| * Estimated |   |
| | |
| --- | --- |
| Colors: | Dark Blue, Red, and White |
SuperKlean's DuraFlow Series industrial spray nozzles continue to grow in prominence throughout over a dozen vertical markets including plants, factories, major pharmaceutical companies, dairies and many others. Here are some of the latest cases that show the fantastic breadth of capabilities of the DuraFlow heavy duty water gun:
SuperKlean has been working with this innovative dairy equipment supplier, providing technical assistance on how to use one of SuperKlean's valuable capabilities featured on our DH nozzles, namely our ¼ turn quick connect front receptacle for many different accessories. For example, SuperKlean's heavy duty water guns allow plant and factory users to quickly connect either 1.5 or 3 foot stainless steel wands to the front of the hot water gun, enabling factory workers to move the hot water spray closer to stubborn floor waste or into crevices of food equipment, where residue can build up.
Our dairy supplier has created their own extended wand system that allows dairy workers to pinpoint the nozzle head all around cow udders, which must be disinfected in between each milking procedure. They say "there is no other heavy duty water gun available that affords this type of unique cow udder cleaning capability." This is certainly a unique application of SuperKlean's DH Series heavy duty water guns.
Steam generation continues to be one of the best ways to provide unlimited hot water when needed, even in the newest production facilities. SuperKlean recently visited one such facility, a state-of-the-art nutraceutical plant in Phoenix. SuperKlean toured with the Plant Manager and was amazed at the newest techniques for reducing power consumption and the overall carbon footprint. One of the keys to this plant's strategy was pre-plumbed-in SuperKlean DuraMix 8000 Steam & Cold Mixing stations, along with SuperKlean DH Series heavy duty water guns. SuperKlean DH Series industrial spray nozzles, in your choice of white, red or dark blue, are always available, in stock and ready to ship same day.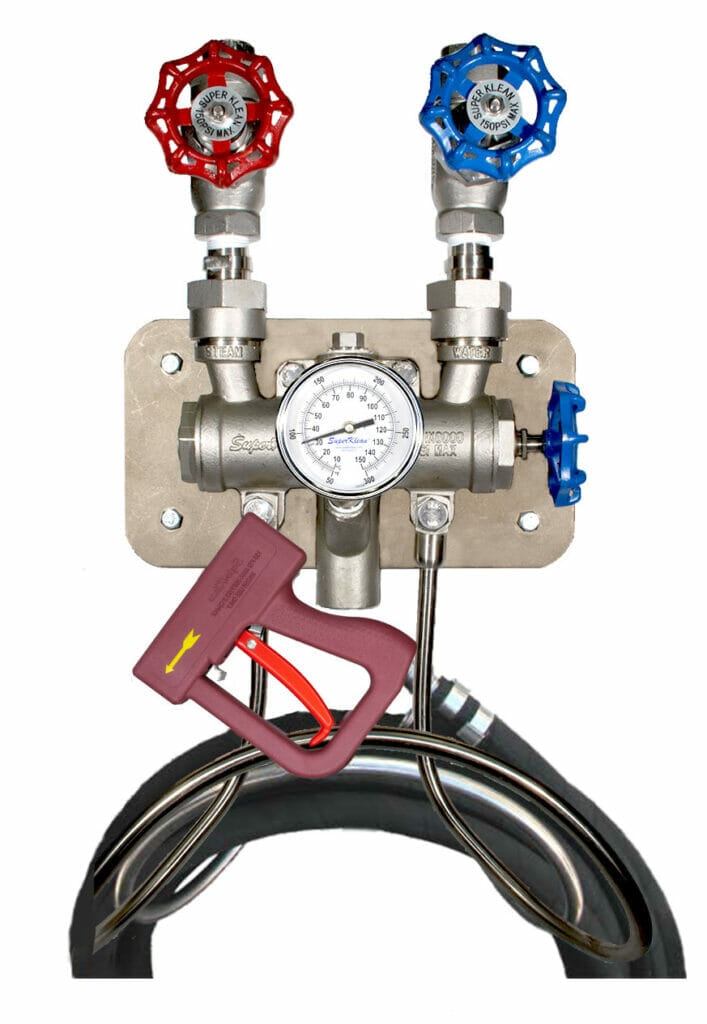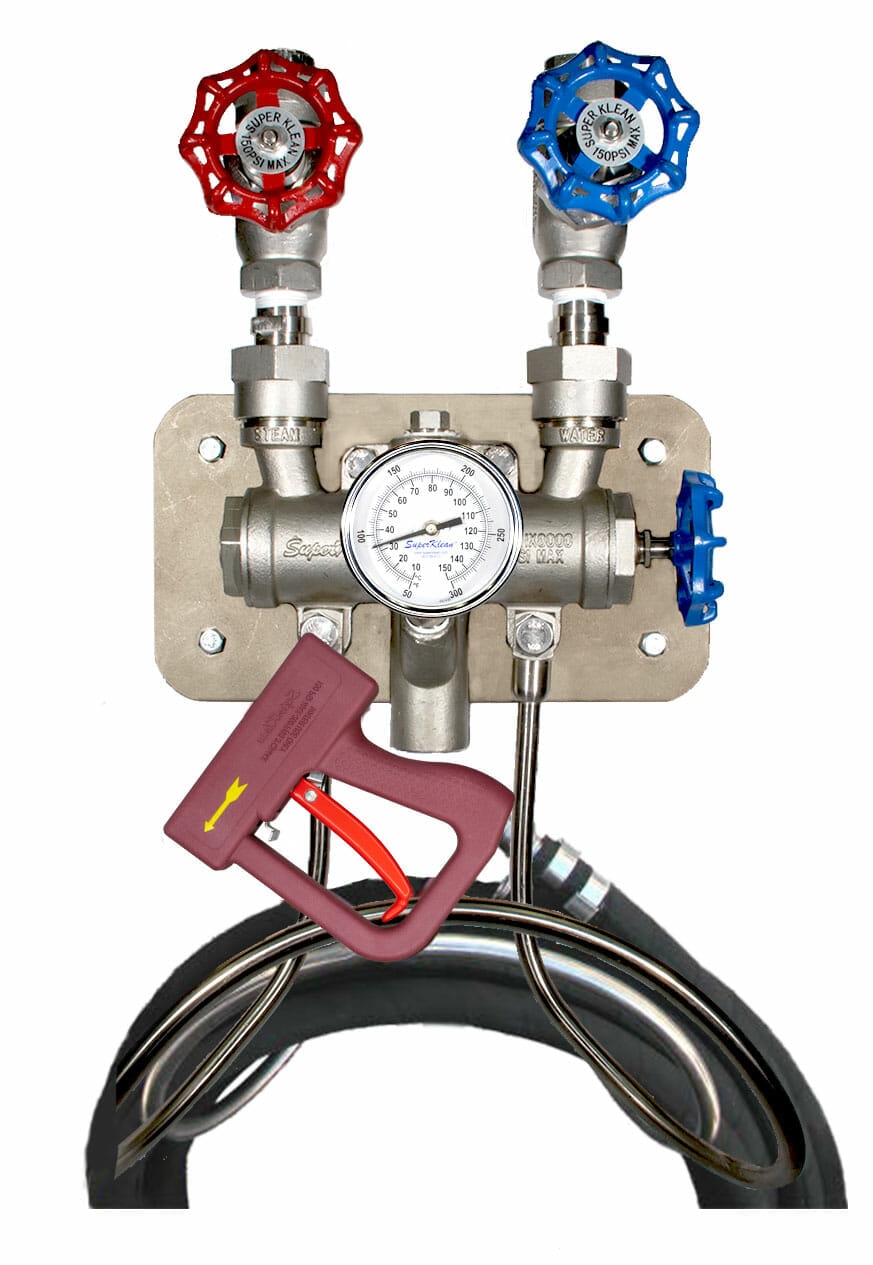 SuperKlean stainless steel DuraFlow heavy duty water guns are our high-end, most full-featured industrial hot water nozzles. DuraFlow nozzles are often used in leading plants and factories who rely on steam to heat their water. Steam generated hot water can create higher levels of heat making an insulated water nozzle extremely important. SuperKlean's specially designed cover material and ergonomic front trigger-guard keeps employees safer during operation and when nozzles are accidentally dropped. This extra protection makes the DuraFlow hot water nozzle the ideal choice for many applications.
Water conservation is important to SuperKlean. DuraFlow hot water guns provide drip-free automatic shutoff capabilities and can be easily adjusted to lower flow with SuperKlean's simple to integrate low-flow insert. SuperKlean's DuraFlow industrial water nozzle is part of an extensive family of SuperKlean hot water spray nozzles that comprise the industry's widest lineup of commercial hose nozzles to fit every application.
If you need help matching a perfect SuperKlean heavy duty water gun to your specific application, please call SuperKlean today at 800-769-9173 for immediate help.