Standard industrial spray nozzle versus its smaller counterpart, the Standard 'Lite' hot water nozzle
Standard Lite industrial water gun spray patterns.
Features:
A more compact and lighter version of Superklean's popular Standard nozzle.
Up to 96% of the flow rate as SuperKlean's larger Standard commercial hose nozzle, with less than half the weight.
Superklean Ball Swivel Adapters available for ultimate, ergonomic operation.
Special formulated rubber cover for durability and easy replacement.
Bronze construction weighs only 1.25lbs.
Rating: 150 PSI / 200°F (93°C)
3/8" female NPT inlet.
SuperKlean introduced our Standard 'Lite' hot water spray nozzle several years ago and it has become an amazing addition to our industrial hot water nozzle lineup, which is the most extensive in the hot water washdown industry. This 'Lite' mini spray nozzle weighs in at a mere 1.25 lbs., and provides up 96% of the flow rate of its larger sibling, our SuperKlean 'Standard' nozzle, which has been a worldwide leader in shipments for over two decades. This Lite version is a favorite among factories who prefer lightweight construction on anheavy duty water gun.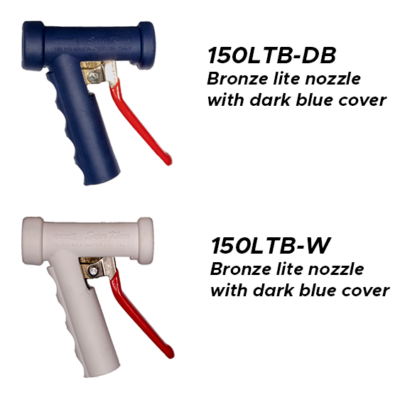 Rating: 150 PSI / 200°F (93°C)
STANDARD NOZZLES
Inlet Pressure
Flow Rate
*(PSIG)
*(GPM)
25
4.00
50
6.25
75
7.75
100
9.00
125
10.25
150
11.50
.
Lighter-weight industrial spray nozzles have become ever-more requested by many SuperKlean commercial customers. Industrial factory and plant sanitation workers require an equally rugged, but smaller version of our famous 150 Series Standard industrial water gun. In some cases they also ask for a slightly lower-flow industrial hose nozzle that can save water, while providing a near-equivalent stream of hot water for effective cleaning. Several years ago, SuperKlean created what we call our 150 Lite Series nozzle that can help fit that requirement. This high quality mini spray nozzle has the same attributes as its larger sister 150 nozzle, but is more ergonomic, due to its smaller, lightweight design that can save between .5 lbs. and 1.5 lbs., depending on the metal construction used.
SuperKlean's 150 Series Lite nozzle family, available in either dark blue or white, was designed to stand up to the rigors of punishing factory and plant sanitation. Hundreds of thousands of hot water washdown hoses are shipped worldwide. These heavy and difficult to move and drag industrial hot water hoses become a bit easier to handle with SuperKlean's 150 Lite mini spray nozzles on the end.
One vertical market sector that loves SuperKlean 150 Series Lite nozzles are wineries. It seems that out of 8000+ wineries in North America, more and more are switching to SuperKlean's lighter-weight mini spray nozzles, that provide around 93-95% of the intensive spraying power of SuperKlean's heavier Standard 150 nozzle.
Most SuperKlean customers also use our SuperKlean-brand manufactured hose swivel adapters to provide safe, secure connection to hot water washdown hoses. SuperKlean provides a full line of 150 Series Lite nozzle hose swivel fittings that will connect to both the hot water source, which is often a SuperKlean hot & cold water hose station on one end, and a SuperKlean Lite mini spray nozzle on the other end. SuperKlean also offers a full line of ball swivel adapters for our Lite mini spray nozzle. These 'ball-type swivels' provide additional angles of rotation, adding to the already superior ergonomic and environmental features of our 150 Series Lite mini spray nozzles. Please see page 17 and page 18 of SuperKlean's latest Full catalog, showing these products, ordering instructions, and features. Our SuperKlean Catalog is available in PDF form on our website www.superklean.com/downloads/. 
It seems that SuperKlean's 150 Lite Series mini spray nozzles are fast becoming a favorite of baking, confectionary and chocolate companies. If you like angel food products, brownies, cakes, cookies, muffins and 'triple chocolate' products, there is a chance the plant sanitation for these goodies were accomplished with SuperKlean 150 Lite mini spray nozzles. Excuse us while we stop for a treat!
For years SuperKlean's customer base has been asking for a similar nozzle to our Standard size '150 Series' washdown nozzle. They wanted the same heavy duty hose nozzle construction and rugged features that could operate at the same high temperatures as other food grade hose guns and SuperKlean's other hot water spray nozzles. Now the SuperKlean "Lite" nozzle version is one of our customer's favorite industrial water nozzles.
Specific industries that often use food grade hose guns and SuperKlean's Lite industrial water gun in their applications include beer companies who use it as a ultra-lightweight brewery spray nozzle, as well as vineyard managers who use it as a winery spray nozzle. Often employees in breweries and wineries will spend hours a day hauling heavy hot water hoses around, and a lightweight nozzle can really improve things from an ergonomic point of view. Best of all, our Standard 'Lite' nozzle has the same, heavy duty industrial strength and rugged features that hundreds of the world's largest industrial plants and factories worldwide have come to expect from SuperKlean.
SuperKlean's Standard Lite Nozzle is widely used in plants and factories worldwide in applications requiring constant hot water sanitation with the same heavy duty food grade hose gun requirements. If you have an application that requires a reliable, lightweight hot water gun, the SuperKlean Standard 'Lite' nozzle is a perfect choice. Order one or more today to give them a try.
Standard industrial spray nozzle versus its smaller counterpart, the Standard 'Lite' hot water nozzle
Standard Lite industrial water gun spray patterns.