Standard industrial spray nozzle versus its smaller counterpart, the Standard 'Lite' hot water nozzle.
Features:
A trusted hot water nozzle used by thousands of food plants and factories.
Heavy duty water gun, long-lasting and durable!
Durable rubber covers.
Interchangeable with other similar brands.
1/2" female NPT inlet.
SuperKlean's commercial customers in over 30 vertical markets ask us from time to time, "Why are your nozzles so heavy and expensive?" Well, they are, in many instances, heavy. Still, they are certainly not expensive in relation to competitors' nozzles (often more expensive) and based on the materials used in heavy-duty water guns.
The brass versions of our Standard heavy duty water guns, also known as commercial hose nozzles, weigh about 3 pounds but last a very long time. Factory and plant managers continue to purchase our nozzles because they stand up to daily punishment and keep working for a very long time.
SuperKlean manufactures our Standard heavy duty water guns or commercial hose nozzles in lighter materials that tend to be rugged but offer a lower weight. Further up on this web page, you can see our anodized aluminum heavy duty water gun, as well as a version in stainless steel. We keep all these versions in stock at our two warehouses so that we can ship them same day. If you are interested in trying out SuperKlean's Standard heavy duty water gun in either aluminum or stainless steel or in heavier brass construction, please call 800-769-9173, and we will send you a sample to try out.
For over 30 years, some of the world's largest food, beverage, and pharmaceutical plants and factories have made SuperKlean Standard Series commercial hose nozzles their #1 choice. These SuperKlean Standard heavy duty hose nozzles are designed to excel in very harsh environments, standing up to the rigors of hours of usage each day, 24/7.
SuperKlean Standard industrial spray nozzles have rear-mounted levers which reduce hand fatigue and offer smooth lever action. The valve seat in all SuperKlean industrial spray nozzles is integral to the nozzle body.
Variable spray patterns, adjustable from fan spray to solid stream, are among the many features offered by SuperKlean industrial spray nozzles. Water conservation is assured upon the release of the lever by the drip-free automatic shutoff feature. This heavy duty hose nozzle is simple and effective, making it an ideal choice as a commercial hose nozzle or industrial hot water nozzle.
SuperKlean heavy duty water gun nozzles are available in:
Brass (3 lbs.)
Anodized aluminum (1.69 lbs.)
300 Series Stainless Steel (2.78 lbs.)
Rating: 150 PSI / 200°F (93°C)
Maximum tested operating pressure: 500 PSI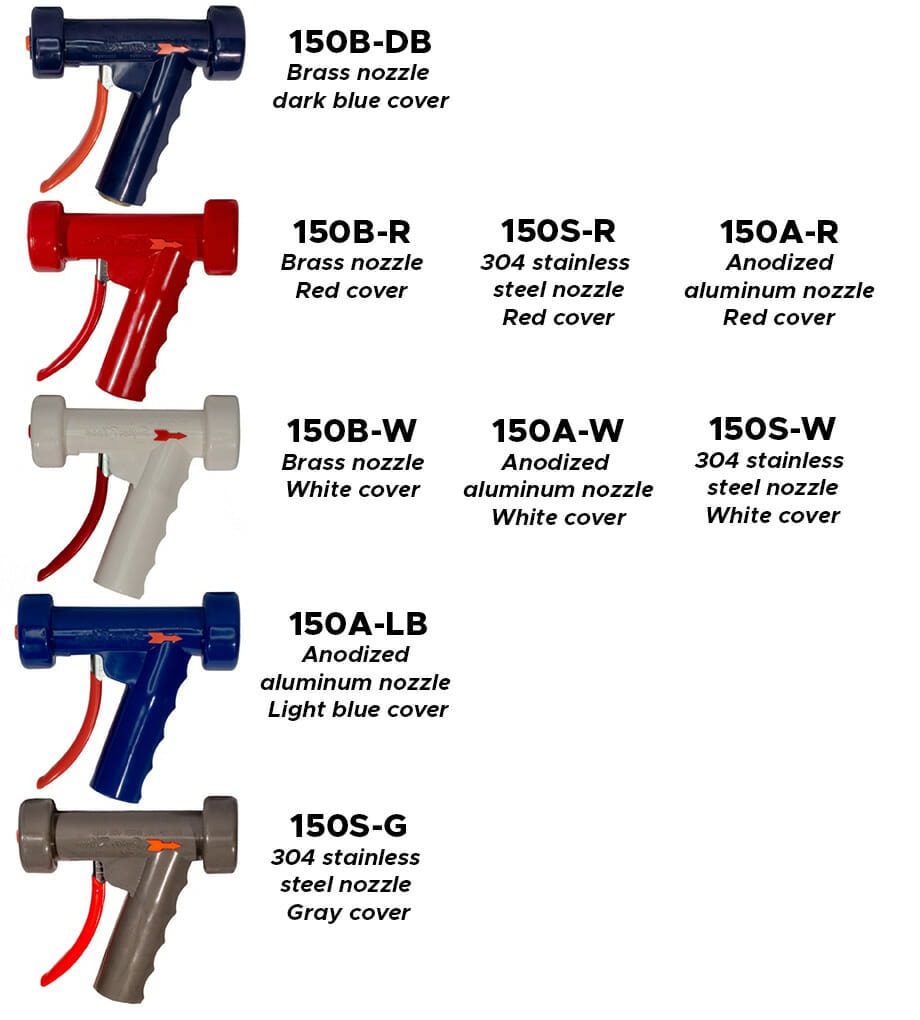 Rating: 150 PSI / 200°F (93°C)
| | |
| --- | --- |
| STANDARD NOZZLES |   |
| Inlet Pressure | Flow Rate |
| *(PSIG) | *(GPM) |
| 25 | 4.39 |
| 50 | 6.54 |
| 75 | 8.18 |
| 100 | 9.56 |
| 125 | 10.83 |
| 150 | 11.89 |
| 200 | 12.67 |
| 250 | 15.01 |
| 300 | 16.12 |
| 350 | 17.45 |
| 400 | 19.55 |
| 450 | 20.52 |
| 500 | 22.01 |
| * Estimated |   |
| | |
| --- | --- |
| Colors: | Dark Blue, Light Blue, Gray, Red, White |
Since our founding over 33 years, SuperKlean's Standard nozzle was our best seller, or one of our best sellers. Since the beginning, factory worker liked that our heavy duty water guns, did not break when they treated it roughly, and they did not have to continue changing nozzles. Many years ago, SuperKlean started offering 'SuperKlean Standard Nozzles' with different materials, including lighter weight aluminum, more chemical resistant, bacteria resistant, (and lighter) stainless steel. These heavy duty water guns are still connected to more and more hot water washdown hoses in over 40 different vertical markets throughout the food, beverage, milk, cheese, pharma, chemical markets, and dozens more. If you have a special application that requires SuperKlean heavy duty water guns, or hose swivel adapters, hose stations, or hot water hoses, call us at 800-769-9173 and we will ship you a free evaluation sample that will arrive at your business within 24-48 hours.
Here are some examples of the type of companies that have trusted and used these SuperKlean Standard 150 Series industrial spray nozzles for many years:
- Wineries across America use all 3 versions of the Standard 150 Nozzles, including brass, stainless steel and aluminum. Some wineries choose to use stainless steel for most of the equipment in their winery's, while others choose the lightweight and low-cost features of our aluminum Standard 150 Series. 


- Safeway Bakery likes to use Standard 150 Series aluminum heavy duty water guns in its bakeries.
- Artisan Kitchens prefers stainless steel heavy duty hose nozzles, so they turn to SuperKlean's Standard Series 150 stainless steel nozzles with gray covers.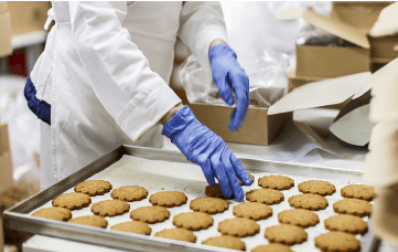 - A major steam products engineering company in America often chooses aluminum for select customers who require lighter weight nozzles in their hot water washdown operations.
- Several marine fisheries across North America prefer SuperKlean's ruggedized dark blue Standard 150 hot water nozzles for both inside and outside hot water washdown hose applications.
- One of America's largest and most prestigious chemical companies chooses red Standard Series 150 industrial spray nozzles for sales with their chemical sanitation products.
- SupraNaturals, a leading American Nutritional Supplement and Health and Wellness company uses SuperKlean white Series 150 heavy duty water gun nozzles. Many nutraceutical, pharma, and supplement and flavor/fragrance companies prefer the lightweight, white-colored version of SuperKlean's Standard 150 nozzle family. 
Many SuperKlean team members and SuperKlean Distributors are often asked, what is the most popular industrial spray nozzle that you manufacture, and what nozzle is best for my hot water nozzle application?
If we go by SuperKlean's 30 years of tens of thousands of hot water nozzle sales the most appropriate answer would be our Standard 150 Series heavy duty water gun. This nozzle was first introduced in brass, which is indeed heavy and long lasting. In fact, some of our customers call it their virtually indestructible heavy duty water gun!
The Standard 150 Series material construction has evolved over the last 3 decades to now also include both a lighter, more chemically-resistant stainless steel body and also a much lighter, yet highly durable aluminum hot water nozzle version.
SuperKlean's heavy duty water gun nozzles with brass construction started it all 3 decades ago, followed by our lighter stainless steel version, great for applications where chemicals are present. Finally, SuperKlean introduced our lightweight Aluminum Standard hot water nozzle almost a decade ago, weighing only 1.69 lbs. yet providing the same long-lasting performance that is expected from SuperKlean's industry-leading industrial spray nozzle and commercial hose nozzle line.
Whether you choose brass, stainless steel, or aluminum SuperKlean Standard hot water nozzles you can be sure that they are all among the world's finest industrial spray nozzles available. Plant and factory managers know heavy duty spray nozzles need to provide continuous operation, without the need to replace or repair them. When combined with SuperKlean washdown hoses, Safety Managers can be assured that their hot water washdown tools will continue to operate 24 x 7.
What makes a hot water nozzle last longer? A heavy duty hose nozzle needs to have both strong internal construction as well as rugged external rubber covers that stand up to drops, dragging on the factory floor and constant changes in temperature. SuperKlean Standard Series heavy duty hose nozzles have a 25 year history of continuous improvement and hundreds of thousands of operation under the most trying factory and plant conditions.
Standard industrial spray nozzle versus its smaller counterpart, the Standard 'Lite' hot water nozzle.