Features:
Designed for hanging hose applications (from the roof).
Anti-spray mechanism built into the trigger.
Quick connect receptacle for accessories.
304 Stainless Steel construction (

1.53 Lbs.)

Rating: 150 PSI / 200°F (93°C)
1/2" female NPT inlet.
SuperKlean's new DuraSpray spray nozzle was specifically designed for hanging nozzle applications common in industrial environment with minimal space for normal operation. Its unique cover design is not only durable, but also incorporates a locking device to prevent accidental spray. The new DuraSpray spray nozzles have variable spray patterns, adjustable from fan spray to solid stream, adjustable by the amount of pressure applied to the trigger mechanism. Water conservation is assured upon release of lever by the drip-free automatic shutoff feature.
SuperKlean DuraSpray spray nozzles are available in 300 Series Stainless Steel and weigh a total of 1.53 Lbs.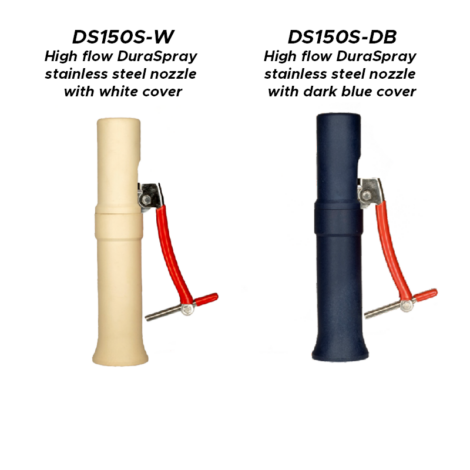 Rating: 150 PSI / 200°F (93°C)
| | |
| --- | --- |
| STANDARD |   |
| Inlet Pressure | Flow Rate |
| *(PSIG) | *(GPM) |
| 25 | 2.93 |
| 50 | 3.86 |
| 75 | 4.91 |
| 100 | 5.78 |
| 125 | 6.71 |
| 150 | 7.19 |
| Note: Standard flow rates can be achieved with the purchase of flow restrictor adapter. |   |
| HIGH FLOW |   |
| Inlet Pressure | Flow Rate |
| *(PSIG) | *(GPM) |
| 25 | 4.39 |
| 50 | 6.54 |
| 75 | 8.18 |
| 100 | 9.56 |
| 125 | 10.83 |
| 150 | 11.89 |
| * Estimated |   |
| | |
| --- | --- |
| Colors: |   Dark Blue and White  |
SuperKlean has been able to visit several meat processing plants across America over the past years. One thing we are witnessing in terms of meat and poultry sanitation is how these plants use SuperKlean's DuraSpray heavy duty spray nozzles to clean in the evenings. Right after the day shift, crews come in and will be go through an incredibly stringent cleaning and sanitation process. Often this will take all night long, and after the final preparation for the morning shift, production must start within less than an hour after the last application of sanitation-level chemicals. This 7 or 8 step very technical process ensures no bacteria or pathogens can begin to grow before production starts.
Meat processing workers sometimes will hold the DuraSpray nozzles in a downward, vertical position, washing down equipment and floors. In many cases, they will place hoses over a shoulder and point the DuraSpray nozzles straightforward, with the ability to perform pinpoint spraying with the lightweight DuraSpray nozzles, wherever needed. These meat processing industries include poultry, cattle slaughterhouses, seafood, cured meats, and many other similar food production plants. DuraSpray nozzles are a reliable and comfortable solution for extensive meat and poultry sanitation processes. Whatever type of nozzle you require, you can be assured SuperKlean has one in stock that will fill your needs. 
A few years ago several major food and beverage companies and distributors asked SuperKlean to expand our already extensive hot water industrial nozzle line to include a heavy duty stainless steel nozzle for food grade hose gun applications requiring spraying hot water downward, from overhead mounts. These applications include various types of meatpacking and meat preparation plants and factories across the globe, along with dairies, cheese plants, and oil refinery applications. Today, more and more leading plants and factories endeavor to bring their hose mounts off the floor, to reduced standing water and hose wear and tear associated with dragging them across floors. DuraSpray nozzles are becoming more popular in an ever increasing number of hot water industrial washdown applications requiring food grade hose guns.
SuperKlean's premium DuraSpray Series of washdown spray nozzles are categorized as part of SuperKlean's heavy duty hose nozzle family. They provide the same long-life attributes of our other food grade hose guns, with the additional benefits of ultra-strong stainless steel construction which stands up to the increasing amount of caustic chemicals being used in today's industrial hose nozzle applications worldwide.
Plant safety managers also like the DuraSpray's safety release lever that requires a focused moment of the operators special attention when first initiating this washdown nozzle's spraying pattern. This assures they have full control of the hot water nozzle stream before spraying begins. If you require true industrial spray nozzle performance, the DuraSpray's three available colors will certainly provide it to you.
Hanging DuraSpray industrial nozzle trigger operation.
DuraSpray Nozzle Maintenance
SuperKlean Tip!
SuperKlean makes the best industrial spray nozzle family in the world. Each SuperKlean industrial spray nozzle is specifically made to survive the rigors of the harshest environments.