Managing a Clean and Sanitary Winery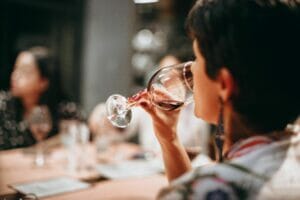 People love drinking wine, and although there are ups and downs in the wine business, this revered beverage will always be valued by millions of consumers across the globe. In America alone, there are an estimated 11,000 wineries, and the worldwide number is thought to be in excess of 300,000, ranging from small boutique wineries to extremely large, multinational wine companies.
Few people know that wines, for instance, red wines, contain at least 11 strains of what can be called probiotic bacteria. But winemakers must keep these positive bacteria while reducing the bad bacteria that can ruin wine and create danger for the drinkers. Tests have shown that SuperKlean's DM Series mini spray nozzle excels in reducing bacteria buildup on the nozzle itself. Stainless steel construction also allows SuperKlean mini spray nozzles to operate continuously in harsh environments where the multiple compounds used in creating wine would otherwise prove caustic and 'lifespan-limiting' for mini spray nozzles not using quality stainless steel.
Winemaking is a complex art form, and some of the best winemakers in the world set the standard for managing the finest operations. Superklean Washdown Products recently visited one of these acclaimed winemakers, Alessio Carli, at the Dorcich Family Vineyards in California. Tucked away in the beautiful Uvas Valley, this family-owned and operated winery is the culmination of generations of successful estate wine production.
Thousands of wineries and increasingly popular breweries are finding that their most ardent supporters and customers are searching for informative tours through highly interesting and pristine production areas. These wineries and breweries are upping their game to keep their industrial sanitation production areas as clean as possible, using special sanitation products, including washdown hoses and heavy duty hose nozzles ready to spring into action. These cleaning tools are carefully spread throughout their cellars and used before tours, then stored and folded neatly afterward on hose racks supplied with every SuperKlean hot & cold water mixing station.
SuperKlean's heavy duty hose nozzle products are often called hot water guns by winery and brewery sanitation employees since they accurately shoot perfect streams of hot water exactly where needed. SuperKlean provides a wide range of winery and brewery hose nozzles that are used in multiple industries, including meat and poultry sanitation, plant sanitation, and over 30 additional types of industrial sanitation factories. SuperKlean hot water hose swivel fittings and hose swivel adapters are regarded as the industry's best, due to safer and longer hose barbs that provide enough room for hoses to be securely banded two times around each hose barb end. In addition, SuperKlean's O-Ring design ensures the ability to outlast the hot water washdown hoses they are connected to.
Alessio, a native of Sienna, Italy, makes SuperKlean Hot & Cold Mixing stations and Standard winery nozzles important components in his strategy to sanitize his winery, both inside and outside. Please watch the attached video to see Alessio providing SuperKlean with a personal tour of Dorcich Family Vineyard.
Notable is how Alessio uses ten low-cost SuperKlean 3600 Series Hot & Cold Water Mixers spread strategically through work areas, with short, 25-foot hoses that are easy to uncurl and replace on the 3600's included hose rack. This reduces the amount of time that his workers need to spend dragging longer, harder-to-handle hoses around the winery. It also reduces wear and tear on the hoses and potential tripping over hoses left off the hose rack. Excessive dragging of hoses, especially over rough, concrete-type floors, can cause microscopic abrasions to form on hot water hoses. This provides breeding grounds for unwanted bacteria and pathogens that the best wineries endeavor to minimize. He completes his assembly with several Standard nozzles. These winery sanitation nozzles are excellent for every application with variable spray patterns and a rear-mounted lever to reduce hand fatigue. This combination of DuraMix 3600 Hot & Cold Water mixing unit, shorter washdown hose, and Standard winery nozzle is the popular setup for many wineries worldwide.
Alessio has trusted and used SuperKlean's environmentally exceptional winery sanitation products for over 17 years and currently makes over 6,000 cases of wine, with varieties including cabernet, merlot, Syrah, chardonnay, and sauvignon blanc. If your travels bring you to the vast Northern California wine region, please make sure to make Dorcich Family Vineyards a destination you will treasure forever.
SuperKlean's wide range of fine sanitation products for wineries is available from many distributors worldwide. For more information on SuperKlean Washdown Products, please visit www.superklean.com.