What Are The Best Products For Brewery Sanitation?
Breweries of all types around the world trust SuperKlean brewery sanitation hot water washdown products to keep their brewery floors clean with the least amount of hot water consumed. SuperKlean's low-cost brewery sanitation products allow breweries to space their hot water mixing stations closer together, saving considerable time and expense with shorter hoses. More hot and cold water mixing valves installed closer together result in more efficient brewery sanitation.
SuperKlean offers the industry's widest line of environmentally superior brewery sanitation products, including a full line of brewery spray nozzles, hot water washdown hoses, and industrial hose racks. Choose between our best-in-class brewery hose nozzles, 150 Series industrial spray nozzles and DH Series heavy duty water guns, to find the perfect patch for your brewery sanitation needs!
SuperKlean Brewery Sanitation Product Benefits:
Why SuperKlean Products are Perfect for Brewery Sanitation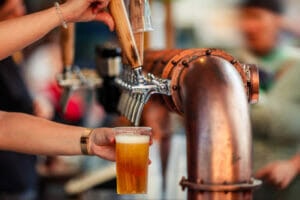 As the demand for beer has increased significantly over the past few years, especially with craft beer gaining popularity in the market, so has the importance of brewery sanitation. Every beer maker understands that sanitation in the beer production process is crucial and many spend the early years of their career simply learning how to properly sanitize their brewery. In fact, the FDA requires that every brewery must have GMP (Good Manufacturing Practices) in place in order to operate. This includes that the brewery's hoses, drains, kegs, floors, tanks and hydrometers are all sanitized daily to meet these guidelines. Not only do brewers need to abide by these FDA mandates for sanitation purposes, the level of cleanliness in a factory affects the quality of the finished product. Every stage of the brewing process involves microbial activity. Most of these microbial activities are favorable to the brewing process; however, there are instances where unwanted microbial contamination may occur and affect the flavor and safety of the finished product. For example, the existence of Lactobacillus and Pedioccus can occur in a batch of beer and leave an undesirable flavor, consistency, and even make it harmful for consumption if the proper brewery sanitation steps are not taken.
So how can SuperKlean and our washdown supply offerings help your brewery to ensure brewery sanitation guidelines are being followed and decrease the chance of microbial contamination? The first step is to make sure brewery floors are clean. SuperKlean's low-cost 3600 Series Hot & Cold Mixing Stations have the ability to effectively sanitize in closer vicinities with 25 ft hoses, saving considerable time and expense with shorter hoses. Having more hot water stations positioned closer together results in more efficient sanitation. Our hot and cold water washdown valves are available in stainless steel and brass to coordinate with the rest of your factory sanitation equipment. In addition, SuperKlean's extensive line of industrial nozzles which include brewery hose nozzles and brewery spray nozzles stand the test of time even with daily usage as needed in breweries. Our Standard "Lite" Spray Nozzle is a favorite for our brewery customers due to how compact and light the product is, while packing the same industrial strength as our standard nozzles. Many breweries who use SuperKlean 3600 Series mixing stations prefer ball valves, which allow operators to turn water on or off with a simple quarter turn. Other breweries who require more precise temperature prefer 3600's with globe valves. Breweries of all types around the world trust SuperKlean's sanitation hot water washdown products to keep their brewery floors clean with the least amount of hot water consumed. Follow us along as we tour the factory of one of our brewery customers, New Jersey's famous River Horse Brewing Company.
This video shows how River Horse's great maintenance team uses SuperKlean 3600 Series Hot & Cold Water Mixing Stations to achieve the perfect hot water temperature for cleaning, and how they spread multiple 3600 Series hot and cold water mixing valves around their beautiful brewery. The video shows all SuperKlean hot water washdown valves mounted with our brewery hose nozzles, industrial hose racks, and SuperKlean washdown hoses that are just the right length to maximize coverage throughout their entire brewery sanitation and operation process.
For more information on SuperKlean's full line of brewery sanitation products, please visit www.superklean.com/shop, or for immediate technical assistance on what products might be best for you please contact Dana Rudy, SuperKlean's Sales Manager, at her direct number 949-576-5679.
The team at SuperKlean hopes to see you at the show or answer your questions directly on the phone at 1-800-769-9173.